Rewiring Or A Home Rewire
Replacing the wiring in an old house
Replacing electrical wiring makes an old house safer, more modern and livable. However, rewiring doesn't cover only houses.
All commercial buildings, factories and warehouses must be inspected regularly and rewired as needed. How you proceed will depend on your budget, access to the walls, roof cavity and crawl space, and the amount of renovation allowed.
This type of electrical work is easier to do in a newly purchased home than in an already occupied home.
Do not attempt to do any electrical work including wiring unless you are a licensed electrician
When you buy a property, ask the seller or real estate agent if there is a "Certificate of Compliance for Electrical Work" that you can review. If so, you will be able to see precisely what electrical work and rewiring has and has not been done.
If there has been some time between the last electrical upgrades, you may want to hire an electrician to do an electrical audit of your home and give a time line of what electrical work will need to be replaced or upgraded.
If you are planning a kitchen renovation or upgrade – You will probably need to update the wiring as this is where the most power (after your air-conditioners) is drawn from – Your oven, cooktop, fridge and dishwasher plus lighting all require power and often at the same time.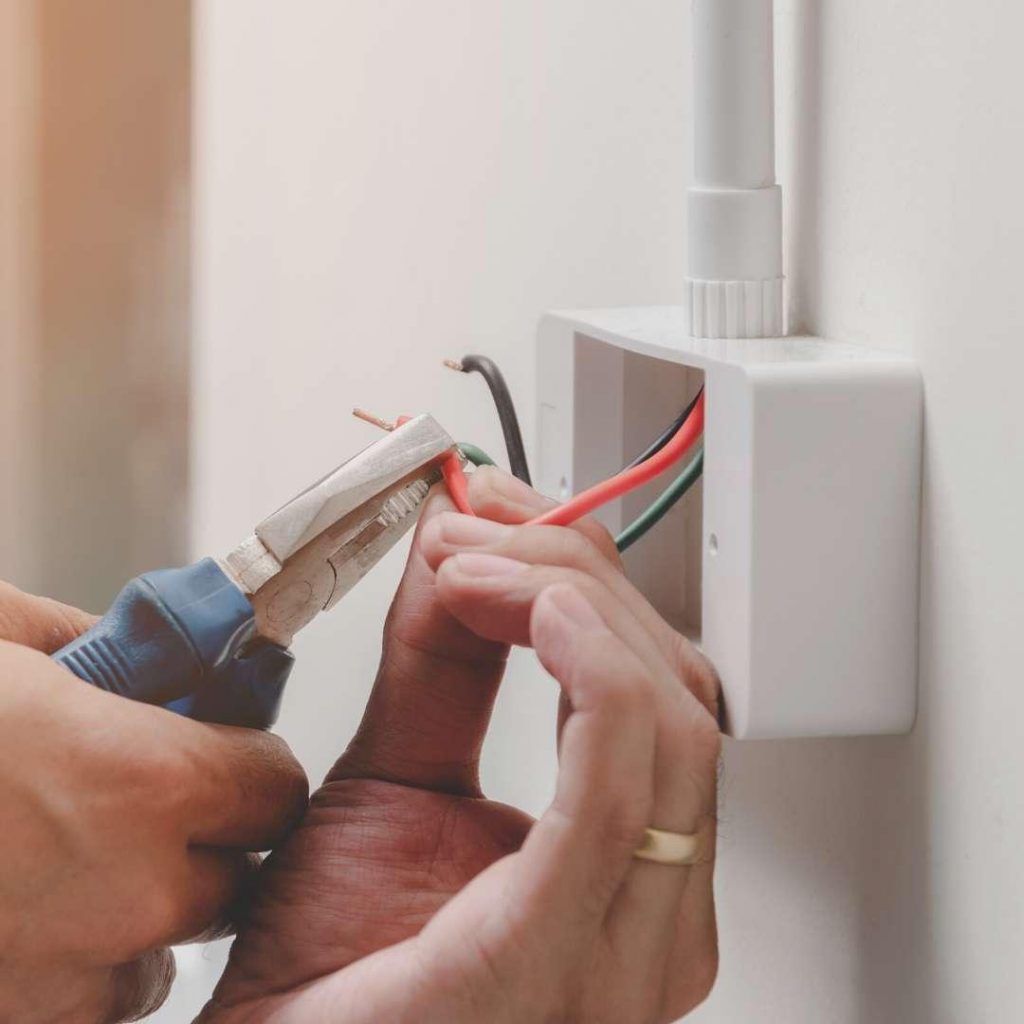 When is whole-house rewiring necessary?
When trying to figure out if your home needs to be rewired, the first thing to check is when it was built. If it was constructed in the 1980s or before, it's definitely worth hiring a licensed electrician to check the wiring. The reason is:
Modern wirings are safer and more durable.
The plastic coating of old wiring deteriorates over time. This means that the wires may no longer be insulated.
In some old installation methods, the wires were installed on joists in roof cavities. This means that you or a worker who has to climb onto the roof could hit the wires or be electrocuted.
The rewiring process
Access to the walls
The first step in replacing wire is determining how much access to the walls. If you bought a new house, you should cut numerous holes in the walls before painting or moving in to make it easier to run the new wiring. If your home is already occupied or you don't want to cause a major inconvenience, the work will take much longer, and your options will be limited. You may need to leave the wiring in the walls intact and only replace the cable in the roof cavity or crawl space.
Locations of the new cable
Most of the new cable will likely be run through the attic and crawl space before entering the walls. Where you run the wires will depend on whether you have access to the rooms, but generally, outlets will be run from the bottom and wiring for lighting will be run from the top. Your electrician will be checking for of hazards such as asbestos, fibreglass insulation and old wiring. The power will be switched off at the mains while all electrical work is being carried out.
Rewiring And Electrical outlet
To replace the wiring of an outlet, the old outlet must be removed. Your electrician may be able to pull the old wire back through the hole where it runs. However, if it's stapled down, that's not an option. You will then need to drill a new hole for the new cable.
Putting in new power points is something that most new home owners do. When they move in their appliances or entertainment systems they will soon see if they need extra points to cope with the appliances they have.
Many bedrooms need extra power points. People need more power points to recharge phones and laptops
Drill new holes
If you're relocating an outlet or light switch and can't reuse the hole for the old cable, a new hole may need to be drilled.
It is always a good idea to all electrical upgrades before you do any painting or plastering as holes and gaps can be fixed when this is to be done.
It can be annoying to have a hole in the wall left after an electrical upgrade or repair.
If you need a plasterer contact Brisbane Plaster Pro
Determine the number of circuits
Old wiring often doesn't provide enough circuits for the power needs of modern appliances, lighting and technology. If you are replacing your existing cooktop with an induction cook top, you will probably need electrical upgrades. If you are planning on upgrading your air conditioning system or installing extra split systems, you will need to look at your current wiring and see if you need to rewire or upgrade.
If your premises is larger, it may be worth looking into getting a 3 phase upgrade. If you run a business from home, such as a workshop. 3 Phase power may be worth investing in.

Replacing switchboards
In addition to replacing the wiring, you should also consider replacing the entire switchboard. This may be necessary if your old electrical panel does not have enough space for the new circuits. This may also be advisable if your old switchboard is in poor condition or if you have fuses instead of circuit breakers. If you're upgrading the electrical panel, you'll probably also need to replace the wiring that supplies the house. Also consider getting surge protection.
Again, this must be done by a licensed electrician.
Do not attempt to do any work to your switchboard. Not only is it illegal it is also life threatening.
How do whole-house rewiring benefits?
Rewiring homes and buildings increase safety and provide better support to modern appliances and equipment.
When you're selling your home, it has the potential to be a strong selling factor to show that the buyer won't have to budget for whole-house rewiring.
Rewiring increases:
Safety
Efficiency
house value
the amount of money you save
Who to call?
Your home's wiring should be in ideal condition to ensure the safety of your home and its occupants.
Call the Brissy Electricians and get any problems fixed. If you require an industrial electrician – this is who we recommend here
If you face any of the above electrical issues, seek professional help.
If you think your wiring is faulty, damaged or old, you should call our professional electrician immediately and avoid having an electrical fire or or worse – someone electrocuted.
So, contact us today to check the wiring in your home or business.